Reformed, thank you: @askjustmonroe (OOC: Want to RP? ~ twilightgirlkay)
Kathleen had been in Portland around two weeks but still had a lack of knowledge of the area. She had only wanted to go out for a walk and find where the nearest woods were, but in the end got lost. She had found the woods but wasn't about to find her way back.
Kate began…
Kate smiled cautiously, but felt she was in no danger, for at least the moment.
"Yeah, I'm sorry about just walking in like this. I was just trying to find a nice woods and well ended up getting lost like a stupid pup. I'm new to the area, my names Kathleen. Kathleen Tala. I'm sorry again about this." She finished again with a nervous smile. It had been 2 weeks and she finally met someone that seemed nice and a blutbad to boot. Kate started to straighten up and edge alittle closer. She was still caustious and had her animal part of her screaming to not get closer, but she did need help.
(OOC: Gah, I get trapped in watching Grimm and then Buffy sorry about that lol. I'm having fun though. Oh here's a reference of what I'm going for as Kate: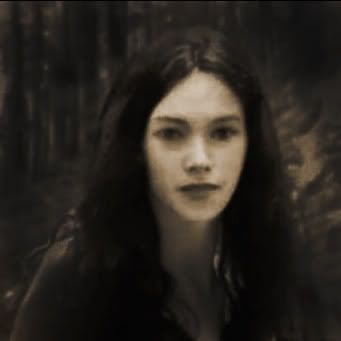 I confess this is from a movie. But it fit XD)
Kathleen had been in Portland around two weeks but still had a lack of knowledge of the area. She had only wanted to go out for a walk and find where the nearest woods were, but in the end got lost. She had found the woods but wasn't about to find her way back. 
Kate began to sniff around but couldn't pick up her own path anymore. 'Great, just great. I'm lost in the woods. I'm the worst Blutbad ever!'
Suddenly she picked up on a new scent, it was familiar but unfamiliar at the same time. She could tell it was blutbaden, but she hadn't smelt this scent before. It was near by and grewing stronger. 'Crap I've stumbled into someone elses territory. Well I could use it at least try and use this for some direction and if I bump into them I could ask for help. I just hope they aren't going to get too pissed I'm in their territory.'
Kate continued to fallow the scent when she spotted who had marked the area, it was a fairly tall large man in long khakis, big boots, and what looked like a knitted sweater. He seemed unalert of her yet so she stopped where she was. kate wasn't wanting to start off on the wrong foot and startle him into attacking. 
"Excuse me sir. I don't meant to be in your territory or anything, but I'm lost at the moment and was wondering if you could help me out?"